How Digital Menu Boards Can Keep Quick-Service Restaurants Modern and Legal
The digital menu board featured here shows the number of calories contained in a burger. According to the new 2010 Health Care Reform Act, chain restaurants with 20 or more locations will be required to display caloric and nutrient information for menu items.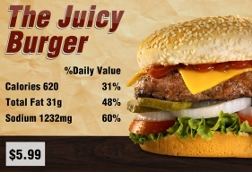 Digital menu boards offer a high-tech, modern and flexible way to display quick-service restaurants' menu items and promotions. The technology also can aid QSR owners in adhering to new provisions outlined in the 2010 Health Care Reform Act.
By Myles Mjolsnes
Digital menu board technology represents an eye-catching and modern way to display a quick-service restaurant's (QSR) menu items, promotions and nutrition information to customers. In addition, this technology enables QSR owners to quickly change and update the information displayed, which offers a clear advantage to static menu boards now that the new health care law has passed.
Part of the new 2010 Health Care Reform Act is a national nutrition labeling requirement for standard menu items at chain restaurants. The law requires chain restaurants with 20 or more locations, regardless of ownership, to provide caloric information on their menus, menu boards and drive-thru displays. The law also requires these chain restaurants to provide nutrient information on all menu listings. These new requirements bring significant changes and opportunities to the QSR industry.
The new law requires the following to be included on menu boards and drive-thru menu boards:
The number of calories contained in the standard menu item
A succinct statement concerning suggested daily caloric intake
A prominent, clear statement regarding the availability of a written form of nutrition information upon request of the customer
To more efficiently adhere to these new provisions, the QSR industry has the opportunity to upgrade traditional static menu boards to the latest in dynamic digital menu board technology. This technology, which is visually appealing, easy to use and attention-grabbing, can give any QSR or fast casual restaurant a high-tech, modern feel that is customized to its unique brand, setting the restaurant apart from its competition.
In order to adapt to the new requirements, as well as rapidly changing market conditions, static menu boards are going to become overwhelmingly expensive. The costs for repeatedly printing, shipping and making changes on static menu boards will simply outweigh the costs for deploying their digital counterparts. These ongoing changes could cause a complete static menu board redesign each time an update needs to be made. In addition, during the past few years, the cost of changing static menu boards has increased while the cost of hardware ownership has decreased by up to 50 percent for some QSRs. The move to digital saves on disposal and replacement costs of trans-light menu board strips, and packing/shipping material and labor. QSRs using digital menu boards already are positioned to deploy caloric and nutrient information more quickly than QSRs using static menu boards.
A digital menu board solution is a flexible, timely and economical solution to nutrition labeling. With digital menu boards, the dynamic digital content can be modified in minutes. Moreover, QSRs using a brand-specific template can eliminate complete menu redesign when updating text and images. With digital menu boards, the capacity and potential for holding and changing information is virtually unlimited.
Digital menu boards are easy to read, and by use of color, motion and graphics, they lead the consumer through the menu to help him or her make a decision quickly. They attract seven to 10 times more customer attention than a static menu board and with an actively engaged audience, messaging is more likely to be successfully received. Beyond communicating nutrition information, digital menu boards are an educational communication tool to consumers, delivering messages about promotions, seasonal specials, weather conditions, local events, etc. The digital menu boards' entertainment value also significantly adds to the customer's whole experience and satisfaction.
With more than 153,000 Quick-Service Restaurants in the U.S. and Canada alone (not taking into account other chain restaurants), the demand for making restaurants compliant with the new health care requirements within a year will far exceed the providers available.
published: 04/15/2010
http://www.digitalsignageexpo.net/DNNArticleMaster/DNNArticleView/tabid/78/smid/1041/ArticleID/2971/reftab/253/t/How-Digital-Menu-Boards-Can-Keep-Quick-Service-Restaurants-Modern-and-Legal/Default.aspx