Digital Signage for Banks
Why digital signage? In a word, it's about communication. Digital signage provides banks with a way to communicate with customers with more frequency, relevance and efficiency than ever before.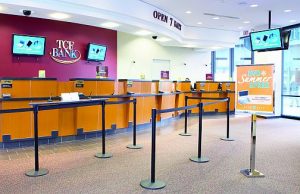 By Nancy Radermecher
For bank marketers who have worked primarily with traditional media, the prospect of moving into digital signage can be daunting. But don't panic… . It's only marketing!
Admittedly, there are many new concepts and technologies that need to be understood, and the learning curve can be steep. If put in the proper context, however, digital signage can be demystified, understood and harnessed.
Simply put, digital signage is just another point-of-sale (POS) marketing tool for bank marketers to use in furthering their retail marketing objectives. It may be new and apparently "high tech," but in fact, it operates on the very same principles that traditional POS marketers have been practicing for years.
Most people will agree that digital signage looks good and may believe intuitively that it works better than paper-based signage. But where's the proof? Where's the evidence that digital signage can help bank marketers do what they're already doing…but better?
More Effective Than Paper-based POS Communications
For starters, digital signage is more powerful in attracting "eyeballs." According to the "2007 Digital Out-Of-Home Media Awareness & Attitude Study" conducted by Online Testing Exchange and SeeSaw Networks:
63% of adults said digital signage catches their attention — the highest level reported across all media surveyed including billboards, magazines, TV, the Internet, newspapers, radio and mobile phone advertising
53% of survey respondents found digital signage to be the most interesting medium
51% of 18-24 year olds reported taking an action as a result of seeing ads on digital signage.
More Fully-featured POS Communications Tool
While eye-appeal is important, the true potential of digital signage becomes apparent when one looks at the new capabilities it enables. Unlike paper-based signage, which requires costly and time-consuming production and distribution of "one-size-fits-all campaign materials, digital signage allows for nearly infinite variability, which results in:
More relevant messaging through localization — right down to the branch level.
More frequent refreshes (more messages per customer visit) resulting from more "shelf space."
Greater speed to market through the use of messaging templates and near instant message distribution.
Greater timeliness of messaging with dynamic messages that are responsive to local business conditions.
Digital Signage Performance in the Bank Environment
Positive metrics from John Ryan's own installed base of 4,000 sites and 15,000 screens under management help to drive home the value of digital signage in banking. In recent years, we have seen digital signage results that include:
Communications Effectiveness
• 200% increase in awareness of bank offers
• 400% increase in recall of two or more messages
• 120% increase in interest in learning more
Improved Experience
• Reduction of perceived wait time by 62%
Sales Results
• 20% increase in sales of promoted products
• 180% increase in new account openings versus benchmark
These metrics certainly help to make the case for digital marketing in the bank branch environment. However, bank marketers who are making the case to their higher-ups will need to set realistic expectations.
Three Keys to Digital Signage Success
Confidence. We encourage financial marketers to have confidence in themselves and their professional knowledge and experience. After all, digital signage is simply a turbo-charged form of the Point-of-Sale marketing discipline marketers have already mastered. The technology is important, but in-branch digital signage is not primarily about technology. It is about marketing. Its value lies both in speed to market and its ability to vary messages by branch, screen, time of day and time of week… providing the opportunity to put classic marketing analytics to work in the branch for the first time.
Context. As revolutionary as digital signage is, it shouldn't be seen as a replacement for all traditional marketing methods. It is simply another tool, albeit a powerful owe, for implementing the bank's established strategy. So, as you consider the role of digital signage, start with your core objectives and then determine how the unique capabilities of digital signage can help.
Content. Content may be king but relevancy trumps all. In order to be effective in digital signage, marketers must put in place tools that let them author, target, and assemble relevant messages quickly and affordably.
(published: 28/10/2009)